Sharon's Story
Sharon Burke v. Groover Christie & Merritt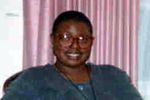 In December 1999, Sharon Burke was a successful retail men's wear store manager in the Washington suburbs of Prince George's County, Maryland. She was 40 years old, single, and popular with her friends for her quick wit and positive outlook.
In December 1999, Sharon Burke underwent an MRI scan of the brain because she had started experiencing strange symptoms: numbness and tingling of his arms and legs, mostly on one side. The scan was reported by radiologists at Groover Christie & Merritt, a large Washington-based radiology group practice, as showing signs of multiple sclerosis, a degenerative disease where nerves lose their insulation sheathing.
The symptoms went away, and Ms. Burke's neurologist did nothing until she came back to him in July 2000, seven months later, complaining of similar symptoms. This time the symptoms were more dramatic: she had had episodes where her legs suddenly gave way and she fell. Another MRI scan was ordered. This time the report was more equivocal. The radiologist said the scan looked like Ms. Burke might have multiple sclerosis, or an inflammation of blood vessels in her brain, or a stroke from a blood clot.
An MRI scan of the brain was misread by a radiologist
That report was a misreading of what was on Sharon Burke's brain scan. The July scan actually showed a blockage of one of the major blood vessels feeding the brain - the right internal carotid artery - and clear evidence of stroke damage in the parts of the brain fed by that artery.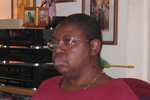 Sharon Burke went on to suffer a major stroke in October 2000, a stroke that could have been prevented if her scan in July 2000 had been read correctly and she had been put on blood-thinning medications to block the development of the clots that damaged her brain.
The stroke left Sharon Burke in her mid '40s with a brain that functions on the level of an 80-year-old. She is easily confused, has difficulty communicating even simple thoughts, and relies on her elderly mother to get through her daily activities.